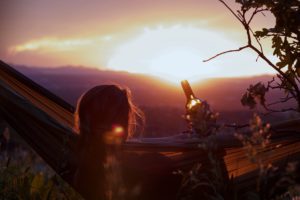 "Some of the best things in life come when we are not looking for them".
This wonderful advice came  from a very kind and remarkably wise young firefighter.  I was lamenting that things were stagnant in my life in one particular area.  I told him that I was beginning to give up hope.  He reminded me that at times the best plan is no plan.  Just relax and let life happen.  He is so right.
Is there something in your life you wish could be different?   Longing for that special someone to come along?  Why not take some time and just get out there with friends and enjoy life?  No worries about meeting that perfect person.  Invite some friends over for some food and cards.  Host a neighborhood party.  Volunteer in your church or community.  Take a class at your local library.  Whatever it is, forget about the chase and enjoy the NOW.
God is in control and will bring you what is best in His own time.  Trust in the future, take your hands off the wheel and just breathe.  Enjoy your life at whatever point you are right now.
Remember that ALL GOOD THINGS WILL COME TO YOU IF YOU CREATE A POSITIVE SPACE FOR THEM IN YOUR LIFE. 
Peaceful waiting…
Teresa