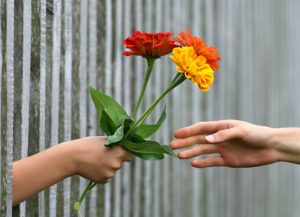 A key component in living a successful life is kindness. No one gets ahead in life or progresses without practicing kindness to others. Putting their needs before our own, working on making life better for others, and keeping the focus off of ourselves helps us to succeed in life.  It generates happiness in the world and allows that energy to come back into our life with abundance.  Being kind doesn't take a lot of money, effort, or time. It does require awareness, however.
Take every opportunity to complement those around you with sincere words of appreciation.  I am not talking about meaningless words that praise but lack sincerity.  I am talking about noticing the gifts of your friends, co-workers, and family.  Each of us is created with a special set of gifts and talents that is uniquely ours.  Who do you know who has a great singing voice,  a talent with fashion, or can build and fix anything?  Notice, appreciate,  and tell them how much you admire their gifts.  Take real joy in the accomplishments of those around you. Celebrate their successes.
With that being said, please make sure to notice your own contributions to the world.  You are as unique and gifted as the rest.  Compliment yourself and love and appreciate the things that make YOU special as well.
When kindness and appreciation are part of your daily life, you can't help but be successful and much happier.
With kind regards,
Teresa